Who's the father !?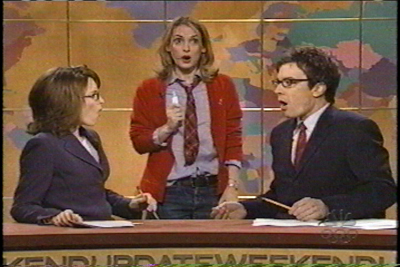 SNL PREMIERE : September 29,2001
8-6-01- Jimmy's Letterman appearance will rerun again on August 17th! A new feature to the site... Memory Lane. There you will find captured memorable moments from the 26th season and more soon. If you have any comments, questions, information, links... email me! -Audrey
Want to know Jimmy's celebrity astrology report?
SNL is nominated For emmys!*Variety, Music or Comedy Series *Variety, Music or Comedy Special-" Presidential Bash 2000" *The episode with host Lara Flynn Boyle is nominated for Outstanding Costumes for a Variety Program *Will Ferrell in the Alec Baldwin episode, is nominated for Outstanding Individual Performance in a Variety Program. *Outstanding Writing for a Variety PrograM ( made possible by our Tina Fey and other Brilliant writers of SNL!)
Next on SNL... Conan O' Brien

Created-April 19, 2001
**Note-This site is not affiliated with Tina Fey, Jimmy Fallon, Saturday Night Live or NBC. If you want a text or picture for another website, ask first please. Thanks- Audrey**